Patio Covers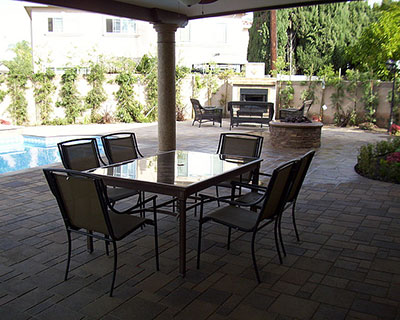 A patio is a highly useful feature that allows you to make optimal use of your yard spaces. This feature is generally an extension of an indoor area of the home. Some commercial properties like restaurants may also have patio extensions that need to be planned and designed well.
We at Excel Pavers & Masonry are a full-service hardscaping company that provides interlocking paver cover design and build services to clients throughout Los Angeles, Orange, Riverside, and San Diego counties. If you are a residential or commercial property owner in Newport Beach, Huntington Beach or Fullerton and need a patio installed on your property, we are the company to call.
Custom Patio Plans
We also cater to clients in and around Arcadia, San Marino, Sierra Madre, and Monrovia. Our team of experts has handled numerous paver patio construction projects throughout Temecula, Palm Desert, Corona, and the surrounding areas as well.
We recognize that every client will have a specific vision for their outdoor spaces. Our team of designers is very diligent when it comes to discussing plans for the outdoor spaces on your property. They will take into account the available space, the kind of design and styling you want as well as the existence of other features and installations in that area.
Keeping all these factors in view, they will design a custom patio cover for you and recommend which materials would work best for the feature. You can opt for surface materials made of brick, natural stone or interlocking concrete pavers. All of these are extremely resilient and durable materials that lend beauty to the landscape.
Paver Patio Design Ideas
However, a patio also sees a significant amount of wear and tear and this is something we keep in view at all times. After all, this structure will also be constantly exposed to the elements and the UV rays of the sun. This is exactly why we recommend the use of high quality products like Belgard pavers.
These products are manufactured to meet the requirements of commercial and residential spaces. They are built to last for a very long time and are easy to maintain. You can choose from pavers of different styling and textures, sizes, shapes, and colors. This allows us to create the kind of unique and distinguished look you want on your patio structure.
Cost-Effective Patio Installations
We are a full-service hardscaping company. This means regardless of what kind of patio you want installed, you can trust us to handle the job to your 100% satisfaction. In addition to installing the actual patio, we can also plan and design your outdoor kitchen space in case you are planning to install this structure on your patio.
This planning will be handled in a very professional manner, ensuring that you get an area you would love to use every single day. If you need any kind of fire feature installation on your new paver patio, we can incorporate that into the overall project plans as well.
The amount of passion we have for our work is reflected in the manner in which we handle every project. The use of high quality materials and exquisite workmanship goes a long way in creating attractive and durable patios.
For any more information on our patio cover design and installation services, feel free to call Excel Pavers & Masonry at this number - 951-543-5920. You can also send us your queries about paver patio cost or request for a free online estimate via this form.
Click on the images below to view a larger display.
Photo 1

Photo 2

Photo 3

Photo 4

Photo 5

Photo 6

Photo 7

Photo 8

Photo 9

Photo 10

Photo 11

Photo 12

Photo 13

Photo 14

Photo 15