Paver Driveways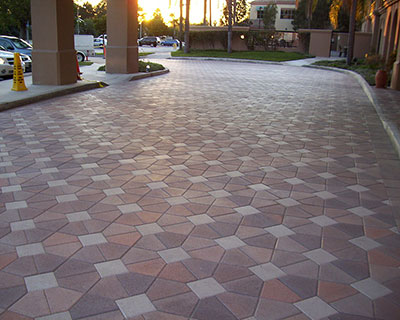 Driveways are an integral installation of most commercial and residential landscapes. This is one of the very first things that visitors to your property notice, making it very important to ensure that your driveway is planned and installed perfectly.
Aside from this, you also need to make sure that the right kinds of materials are used in the work. This structure tends to see a lot of foot and vehicular traffic and you need to choose products that are durable and strong.
Today, different types of pavers are commonly used in driveway installations. We at Excel Pavers & Masonry are a full-service hardscaping company that provides paver driveway design and build services to clients throughout Los Angeles, Orange, Riverside, and San Diego counties.
High-Quality Driveway Paving
If you are a residential or commercial property owner in Newport Beach, Huntington Beach or Fullerton and need a driveway built on your property, we are the company to call. Since there are a large number of paving products to choose from, it is important to have complete information about what these are and whether they will suit your specific requirement.
We also cater to clients in and around Arcadia, San Marino, Sierra Madre, and Monrovia and have completed many projects here. Our team of experts has handled numerous paved driveway construction projects throughout Temecula, Palm Desert, Corona, and the surrounding areas as well.
Custom Paver Design
While you can choose from pavers made of brick or natural stone, interlocking concrete paving is tough, hardy and easy to maintain. We make use of Belgard pavers in most of our projects. You can choose from different types of styling and textures to create the kind of look you want on your property.
For example, whether you need something more traditional and classic or prefer a more modernistic and contemporary style, you are sure to find something that will suit your styling preferences. While we do focus on the aesthetic aspect, we also make sure that your driveway is easy to maintain and resilient.
Paver Driveway Installation
Our team of seasoned hardscape designers will have detailed discussions with you about what your specific requirements are with reference to driveway designs and plans. Based on these discussions, they will provide you with various design options as well as material options.
Once you have made your choice, we will start on the paver driveway installation work and make sure that it is completed methodically and within the promised timeframe. Once all the paver units are in place, we will also install edge restraints that help keep the feature in place. When we install pavers you never have to worry about problems like shifting, sinking or breaking.
Residential Paver Driveway Cost
We have been operating in this industry for a number of years and have worked with different types of paver products. Our team of paver installers can handle projects of all shapes and sizes. Whether you want a small residential driveway designed and planned or need an expensive commercial driveway installed, can handle your project for you.
For any more information on our driveway design and installation services, feel free to call Excel Pavers & Masonry at this number- 951-543-5920. You can also send us your queries about brick paver driveway cost or request for a free online estimate via this form.
Click on the images below to view a larger display.
Photo 1

Photo 2

Photo 3

Photo 4

Photo 5

Photo 6

Photo 7

Photo 8

Photo 9

Photo 10

Photo 11

Photo 12

Photo 13

Photo 14

Photo 15