Retaining Walls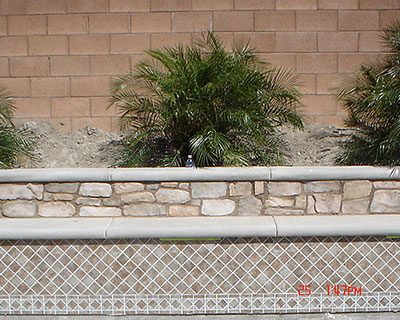 Retaining walls are specially engineered features that are built in various areas of a landscape to provide support to it. They can also be used to segregate different spaces of the landscape while preventing soil erosion.
If you have sloping land on your property and need to install outdoor structures such as driveways, an outdoor kitchen or even a patio or deck, retaining walls would have to be built to provide support to the excavated areas.
Custom Retaining Walls
We at Excel Pavers & Masonry are a full-service hardscaping company that provides segmental retaining wall design and build services to clients throughout Los Angeles, Orange, Riverside, and San Diego counties. If you are a residential or commercial property owner in Newport Beach, Huntington Beach or Fullerton and need retaining walls built on your property, we are the company to call.
Over the years we have handled a large number of residential and commercial retaining wall projects and have used our creativity and skill to erect structures that are resilient, beautiful and durable. We also cater to clients in and around Arcadia, San Marino, Sierra Madre, and Monrovia.
Retaining Wall Ideas
Our team of experts has handled numerous retaining wall construction projects throughout Temecula, Palm Desert, Corona, and the surrounding areas as well. When we are building retaining walls, we make sure that every single aspect of the structure is planned to perfection. We will excavate the land properly, create a strong foundation and use high quality materials and workmanship in the work.
We understand that our clients trust us to provide them value for money and that is exactly what we focus on. We believe that landscape retaining walls can be much more than functional structures. It's why we provide unique retaining wall designs that could include planter spaces, recessed lighting, and in-built seating. We can construct these walls using materials such as:
Concrete
Natural stone
Concrete
Wood
Concrete masonry blocks
Other
We work very meticulously, making sure that your retaining walls are constructed within the shortest possible time with no compromise on quality. We can build these structures as part of your new landscape project. However many clients also hire us for retaining wall construction during their landscape upgrade or a yard upgrade jobs.
Creating stunning outdoor spaces is something that we are passionate about and this reflects in every single job that we take up. We work very closely with you and make sure that every feature we install for you is up to your expectations.
Cost-Effective Retaining Walls
While retaining walls specialized features that require specific kind of materials and expert workmanship, you will find that we provide these high grade walls at a very reasonable cost. When we construct block walls, you have peace of mind that the features will provide your landscape the support it needs and that it will also help prevent soil erosion or mudslides in areas where excavation work has been carried out.
For any more information on our retaining wall design and installation services, feel free to call Excel Pavers & Masonry at this number - 951-543-5920. You can also send us your queries about retaining wall cost or request for a free online estimate via this form.
See our fine collection of segmental block retaining walls.